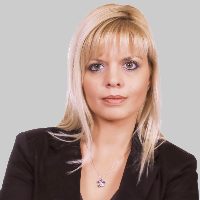 Ria Papadimitriou
Eleftheria (Ria) Papadimitriou is a Supreme Court Lawyer in Greece, member of the Bar Association of Thessaloniki and a PhD Candidate. She holds an LLB from Aristotle University of Thessaloniki and an LLM from International Hellenic University on Transnational and European Commercial Law and Alternative Dispute Resolution.
She is a Dispute Resolution Specialist (arbitration, mediation, negotiations). Ria is also an Accredited Mediator in Civil and Commercial cases by ADRg, UK, INADR, Chicago and the Greek Ministry of Justice and Religious Affairs. Additionally she has been trained and accredited by ADRg as an Online Dispute Resolution Mediator.
She is accredited as Trainer for Mediators and Certified e-Commerce Consultant by the Spin-off Aristotle University of Thessaloniki as well. Her expertise lies in Civil and Commercial Law, whereas she is specialized in Intellectual Property and Information Technology Law. Her thesis was titled "Domain Name Dispute Resolution in Transnational Level".
She has served as a Judge for the INADR 14th Annual International Law School Mediation Tournament-London and the 1st Greek Mediation Competition held by ADRg in Thessaloniki, Greece. She is a young ICCA member and member of the International Affairs Committee of the Bar Association of Thessaloniki.
She is also participating in the Young Mediators Initiative run by the International Mediation Institute (IMI). With her dual capacity, both as a Lawyer and Mediator she is dedicated in promoting mediation in Greece in all possible fields and especially in the field of e-Commerce where she is currently working on a relevant project.
Other Members